Current Affairs Today-Latest Current Affairs
Unique ID
project  'Aadhaar' Launched
Prime Minister Manmohan Singh and UPA Chairperson Sonia Gandhi today launched the ambitious Unique ID project   'Aadhaar', in Nandurbar, a tribal district in North Maharashtra.
Mr. Nandan Nilekani is the chief of Unique Identification Authority of India chief .He is one of Former founder members  of Infosys Technologies.
U.S.Republic Senates give relief to IT Industries
The Indian IT Industries are happy over the relief granted to them by the Republic Senates on Tuesday who blocked the anti outsourcing bill, which was meant to put brake to the jobs from India, the jobs would have definitely restricted if the bill had through successfully.
New nominee for South Korea prime minister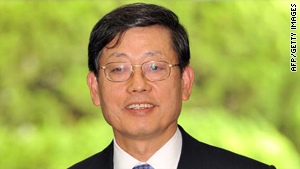 New candidate for prime minister Kim Hwang-Sik.
South Korean President Lee Myung-bak nominated the head of the state audit agency to be his new prime minister, the Yonhap news agency reported .
The nomination comes weeks after his previous nominee pulled out of the running amid corruption allegations that surfaced during his confirmation hearing.
Former Prime Minister Chung Un-chan resigned in July.